Like many parents, one of the biggest headaches I have when kids are on school holiday is how to keep them busy constructively. And like many parents (like you), my head hurts when my daughter beg me 300 times a day to let her watch TV/play iPad, and only parents know, it is super challenging to keep kids busy with educational intent all the time.
So… I took a convenient option, which was signing her up for the reasonably priced school holiday programme.
On the last day of the semester, I set my daughter's expectation that she wasn't going to start her long school holiday yet, as she still had another four days to go in the school (minus the school uniform) and she would have lots of fun with her friends.
Before the program started, I did not have much expectation. All I knew was it's a four-day cooking classes program, she would have some fun while learning and experiencing something new, and I would join on the lunch on Day 4, to taste my daughter's cooking.
On Day 1, I asked her what did she learn in the class. She told me she made a chef hat, an apron and teachers made her moving the tables and chairs and arranging spoon, fork and knife.
On Day 2, I asked her what did she learn in the class. She told me teachers showed her some vegetables, and she ate a lot in school hence didn't want to eat the lunch I cooked for her.
On Day 3, I asked her what did she learn in the class. She told me teachers brought her and friends to a supermarket, they did a grocery shopping, she bought a lot of carrots (actually she didn't buy any carrots, they shopped for ingredients to cook Nasi Kerabu, Borscht soup, chicken chop etc).
On Day 4, I arrived at Tadika Sri Puncak right at 12pm, joined the rest of the parents in the assembly hall. The ambience was so heart-warming, teacher played a photo montage video of the Little Chef program. Teacher explained how they took a progressive approach to introduce cooking process, culinary tools, cooking techniques and kitchen safety. After watching the video, I wanted to walk up to all teachers and Ms Sophie to give everyone a warm hug and thank them for such a well designed and executed school holiday program, a great example of structured learning for pre-schoolers.
I was guided to a table, sitting there waiting to be served. I shed a little bit of tears when my daughter presented the food and drinks, just a sentimental side of me realising that she's more than what I thought she was, a proud mama moment. A reminder for myself that I do not have to treat her like a baby all the time, she is learning and growing, so I should play more of an enabler role, not just a provider.
My daughter proudly showed me her self-made chef hat and apron, telling me how she made them and introduced the sewed vegetables (all are her favourite food) on the apron. And to my surprise, teacher told me that she is capable of cutting vegetables with a small knife (with teacher's supervision), looks like I can make her to do more work in the kitchen *grin*
I believe this program's success is not possible without a well thought structured program and teachers' dedication to inspire children to learn. From my observation, the main reason of all children were so involved is because they were being introduced to all elements of the program in a progressive manner. This helps them to grasp the concept, establish the sense of order for "from kitchen to table" and enjoy the whole learning experience. If only as parents we can replicate this model to guide and teach our children at home, I'm pretty confident that they will grow up as independent individuals that are capable of following through whatever actions they undertake in future.
Big thanks to all lovely teachers and Ms Sophie's positive energy, check out the pictures and I hope you can relate what I'm sharing here.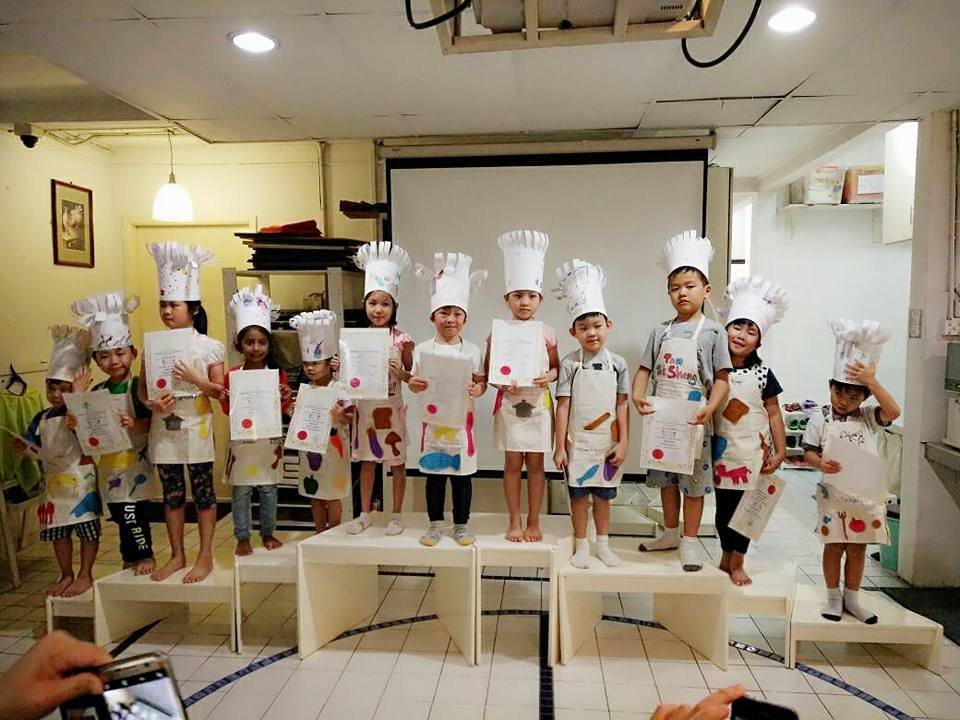 Thinking of how to keep your kids busy with good stuff? I highly recommend you to explore Tadika Sri Puncak's offerings to give your kids a joyful Montessori learning experience!
Written with love by Hui Munn, a happy and proud mommy of a bubbly 4 years old girl.