One of the most common questions parents ask is how will my child fare when he or she transitions from Montessori school into traditional school?
Whether it be kindergarten, college or somewhere in between, most Montessori students will eventually switch to another type of school. Parents worry that children accustomed to learning through the Montessori Method will struggle to adapt in different schools and classrooms. With some schools offering open classroom settings and with the adoption of the Montessori Method by private school systems, children with Montessori preschool background are at an advantage. Montessori children entering a traditional class also have no greater difficulty than other children do in making the adjustment. The children have learned to follow ground rules and need only to learn the ground rules of the new school.
The truth of the matter is that everyone's life involves change. And this is actually a good thing, so long as you are equipped with the necessary coping tools and skills. Teaching our children to adjust to change without undue fear and anxiety is one of life's important lesson for all children, Montessori- schooled or otherwise. But here's the bonus for Montessori students: the Montessori Method is all about developing such coping tools through building confidence, independence, and problem-solving skills. As a result, most Montessori students are actually more adaptable than their non-Montessori peers. Studies show that children with a Montessori background are independent learners and thus more confident and task-oriented.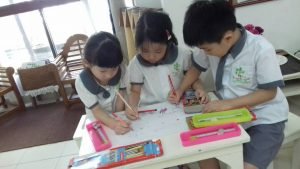 Academic Transitions
Most of the parental concerns regarding transition can be lumped into two main categories: academic and social. Some people believe that because the Montessori Method involves a lot of free choice and little to no testing and homework, Montessori students fall behind academically. Happily, this fear has been proven unfounded. As a rule, Montessori children do better on benchmark tests than students in traditional schools. Don't take my word for it; have a look at the sources below:
Study Shows Improved Test Scores for Students in Montessori Schools– "New research suggests that children who attend Montessori schools may have an edge over other children in terms of both academic and social development."
Evaluating Montessori Education– "…when strictly implemented, Montessori education fosters social and academic skills that are equal or superior to those fostered by a pool of other types of schools."
Montessori Teaching Method Pays Off with Improved Test Scores, Discipline– "The implementation of a Montessori program has paid great dividends…. In addition to curbing discipline problems, all of her students have tested into the school's gifted and talented program and have scored well on PACT and benchmark testing."
Outcomes for Students in a Montessori Program– "In essence, attending a Montessori program from the approximate age of three to eleven predicts significantly higher mathematics and science standardized test scores in high school."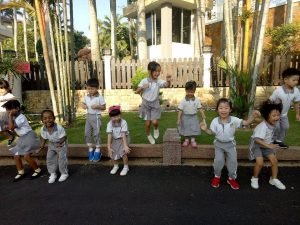 Social Transitions
When it comes to social transitions, again the Montessori students have an edge. Children in Montessori classrooms have learned principles such as courtesy, respect, positive decision-making, conflict resolution, and more. These skills serve them well as they adjust to new schools and meet new people.
Parents can also help their children adjust to change. First, we must remember to model a positive attitude about life transitions. It's easy to be so distracted by our own discomfort with change that we forget to set a good example for our children. Children are learning how to adjust (and whether or not to be anxious) from us. Therefore, we must strive to see change as a challenge and not something to be feared and avoided. Also, pay attention to what you say in front of your children.
A few more suggestions for helping children adjust include:
Listen to your children's ideas for how to fix problems.
Be open to a style that is not your own. In other words, your children might handle change differently.
Make a point to meet your children's new teachers. Attend "back to school nights," etc. 
👋最近好几个家长不约而同地问我,蒙特梭利幼儿园确保可以让他们顺利升上小学吗?😅😅😅
现在小学生的程度高、功课那么难!你们设计的进度赶得上吗?
😂😂😂
😍且让我细细道来。😍
孩子现在无论是正在上幼儿园,中学或大学,大多数蒙台梭利学生最终都会转学到另一种类型的学校。
有些父母会担心,习惯于通过蒙特梭利开放式教室环境,活泼的教学方法,随时发问的习惯,这类孩子将难以适应传统的学校和教室。
而实际上,观察我们历届的毕业生,他们曾经在蒙台梭利幼儿园学习,这些儿童在进入小学一年级,将进行的调整也没有比其他儿童具更大的难度。
以我们的经验分析,短则一周,长则三个月,小朋友很快就会适应新的小学生活。孩子们基本上学会遵循基本规则,只需要适应新学校的环境。
生活的现实是:每个人都将涉及变化。这实际上是一件好事,只要你具备了必要的应对工具和技能。
教导我们的孩子适应变化而不过度恐惧和焦虑!这是蒙台梭利教育在生活培训中重要的功课之一。
这也是蒙台梭利学生的特点:蒙台梭利教学方法是通过建立自信,独立和解决问题的能力来开发这样的特长以应对多变的社会。
因此,大多数蒙台梭利学生实际上比非蒙台梭利同学更具适应性。研究表明,具有蒙台梭利背景的儿童是独立的学习者,因此更加自信、笃定、乐观的适应新的环境。
⭐️课程衔接⭐️
关于幼小衔接,大多数父母关注以下两个层面:学术和社会。
有些人认为,由于蒙特梭利教学法涉及很多自由选择,很少甚至没有测验和家庭作业,以至于蒙台梭利学生在学业上与传统学校的学生比较下,明显落后。所以他们要在五六岁时将孩子送到传统的学校练习写很多字,以便让他们做好上小学的准备。
殊不知根据孩子六岁前的发展历程,孩子在这时期,最需要培养的是自信、与同侪互动合作的能力、自己的生活自理能力及无所不用其極地细心的呵护好不容易培养起来的创意和自信!而不是在这段时期任意打击孩子的信心、提早让幼儿进入小学化的课程,在他们的手眼协调、专注力及小肌肉还没有发展健全的时候,驯服于沉重的课业。
但是结果显示:这种担心被证明是没有根据的。在一些调查中,蒙台梭利儿童在基准测试中的表现多数优于传统学校的学生,
请看看下面调查资料来源:
研究显示:蒙特梭利学校学生在六年级的考试成绩有所提高
– "新研究表明,在学术和社会发展方面,参加蒙特梭利学校的儿童可能比其他儿童更具优势。"
-评估蒙特梭利教育研究显示 – "……当需要严格执行任务时,蒙台梭利教育培养的社会和学术技能与其他类型学校培养的技能相同或更高。"
-蒙台梭利教学方法随着考试成绩的提高而受到重视 – 纪律
"蒙台梭利教育计划的实施带来了巨大的回报……除了遏制纪律问题外,所有学生都参加了学校的天赋和才能,并在PACT和基准测试方面取得了很好的成绩。"
蒙台梭利教育计划中学生的成果 – "从本质上讲,参加蒙特梭利教学计划的时间从大约3岁到11岁,可以预测高中数学和科学标准化考试成绩显着提高。"
⭐️社会转型⭐️
谈到社会转型,蒙台梭利学生也有优势。蒙台梭利教室的儿童学习了诸如礼貌,尊重,参与决策,解决冲突等原则。这些技能帮助他们适应新学校和结识新朋友。
父母也可以帮助他们的孩子适应变化。
首先,我们必须记住建立一个关于生活转变的积极态度。由于我们自己对变化的不适而很容易分心,我们忘记为我们的孩子树立良好的榜样。孩子们正在学习如何从我们这里调整(以及是否焦虑)。因此,我们必须努力将改变视为挑战,而不是让人担心和避免。